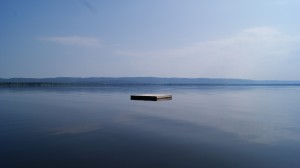 Employment experience:
January 1998 to present day – Freelance writing and broadcasting
Goodweather Publishing Inc. (formerly Binks Media Inc.)
Author of 'A Crack in the Pavement' published in September 2013
Columnist – Metro newspaper 2009-2010
Columnist – CBC.ca 2003-2008
Contributor – Reader's Digest, Best Health, Chatelaine, Homemakers, The Walrus, Franchise Canada, Good Times, More, Toronto Star, Globe and Mail, National Post, Queen's Alumni Review, CBC.ca, Elle, Style at Home
Guest speaker – Ryerson University, George Brown College, Rosedale Day School and Toronto New School
May 1987 to January 1992 CBC Radio News
Afternoon editor. Producer of CBC coverage of Toronto municipal elections – Fall 1988.
April 1986 to May 1987 CBLT Television
General assignment TV reporter specializing in municipal politics
October 1983 to April 1986 CBC Radio
Municipal affairs radio reporter for Metro Toronto.
October 1981 to October 1983 CKO Radio, the All News Network
Editor of news feature show "Newswatch." Political reporting including the
1983 P.C. leadership convention and British Prime Minister Margaret Thatcher's trip to Canada. Host and producer of "Bookshelf, author interview show."
June 1981 to October 1981 Broadcast News, Canadian Press
Rewrite and voice editor.
September 1978 to June 1981 CJBK Radio, London, Ontario
Producer of current affairs show "Dialogue." Host of review show, "Georgie's London," and producer of news feature "Close-Up." General assignment reporting and weekend newsreader. Covered 1979 Woodstock tornado, reviewed 1981 Stratford Festival season.
April 1978 to August 1978 CKDK Radio, Woodstock, Ontario
Afternoon newscaster and reporter. Broke story about first polio outbreak in Canada in 25 years.
July 1977 to April 1978 CJCS Radio, Stratford, Ontario
Afternoon newscaster, reporter and host of municipal politics open-line show.
October 1976 to July 1977 CFGO Radio, Ottawa, Ontario
Traffic reporter and interviewer.
Education
2002 Humber College
Humber School for Writers, Creative Writing Course
Mentor M.G. Vassanji,
Newswriting Course, Algonquin College, Ottawa, Ontario.
B.A. (Hons) Queen's University, Kingston, Ont.
Major – British History
Language spoken: English
Languages studied: Completed grade 13 French and first year university Spanish.
Awards
2011 Association of Health Care Journalists Awards
Third place Consumer/Small Category for article 'Sex after Breast Cancer' (Best Health).
Professional Writers Association of Canada
2013 Features Writing Award Tough Love (Reader's Digest)
Winner of the Barbara Novak for Excellence in Humor and/or Personal Essay Writing
2011 for 'Brace Yourself' (More Magazine)
2010 'How Did Grandma Get on Facebook?' (Metro Newspaper)
National Magazine Award Nominee for Investigative Reporting 2013 – 'Tough Love' (Reader's Digest)
Grants
Ontario Arts Council, Writers Reserve 2002
Volunteer work
Gems of Hope- Board member 2004-2006
Havergal College – Silent auction catalogue, Havergal College Gala, May 1999. Grade Rep., Grades 4 and 5, Havergal College.
John Wanless Parents Association 1993-1995 – Editor of Parents' Newsletter P.E.N.
North Toronto Skating Club 1995-1996, Advisory Assistant Publicity, Board of Directors, 1994-1995, Advertising Manager, North Toronto Skating Show