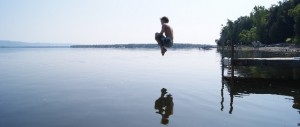 Welcome to my website! My name is Georgie Binks and I'm a freelance writer and former broadcaster. My work covers everything from writing content for websites to very unusual, and I mean unusual, stories. I'm going to post some of those on my website – some are weird, others are funny and others are downright moving. I hope you enjoy them!
Until recently, I had an amazing West Highland Terrier called Goodweather, the inspiration for my company Goodweather Publishing, but that's about as personal as I will get on this page. Read my stories to find out more!
Thank you to my nephew Leverett Binks-Collier for this wonderful shot of his brother, Sam, one beautiful afternoon on the Ottawa River.
Perfection, isn't it? Just what we all strive for.
(All photographs on site courtesy of Leverett Binks-Collier.)